5 Days Rwanda Safari Tour
Day 1: Welcome to Kigali for the 5 Days Rwanda safari trip
The 5 Days Rwanda safari trip starts with a welcome to Kigali! Kigali city is a clean city with a laid-back ambience. Everyone is hard at work making sure they contribute to the greatness of the country.
Dinner and overnight in Kigali city.
Day 2: Road trip to Musanze with an excursion to the Twin Lakes
You will be taken for lunch in one of the hotel restaurants before visiting lakes Burera and Ruhondo. You will later be free to visit local communities that shall perform local dancing with joy and happiness. Overnight Stay will either be in Musanze, Kinigi or Parc des Volcanoes based on your accommodation choice and location.
Day 3: Track Golden Monkeys as well as Visit Iby'Iwacu Cultural Village
After fairly early morning breakfast, we travel to the Mount Sabyinyo headquarters, where we meet the experts in golden monkeys. A briefing shall be given to your party before you start the golden monkey tour. With two golden monkey families habituated with one troop having eighty to a hundred members strong.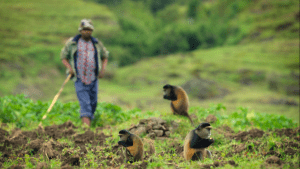 The time given to stay with the golden monkey is limited to one hour. Hereafter we head back to the lodge for lunch, and after lunch, you will visit the iby'iwacu cultural village. Return to your safari accommodation for rest, dinner and overnight in preparation for tomorrow's gorilla trekking tour.
Day 4: Rwanda Gorilla trekking travel to Lake Kivu
A gorilla trekking tour will take you to Volcanoes National Park, where mountain gorillas of Rwanda are found. A bamboo forest is among the vegetation that makes up this evergreen forest with a large area of swamp. You are required to attend a briefing on gorilla trekking pros and cons before you start the trekking.
This is done at the headquarters by the park warden or a person with rank.
Thereafter the jungle opens up to you to battle with twigs and undergrowth.
The trekking is simple as the terrain requires ascending and descending taking between 1 hour and 6 hours to trek. When the mountain gorillas are located, you will spend 1 hour with them, not more. With the gorilla tracking down, we head to Lake Kivu after lunch to give you time to relax.
Day 5: Kayak on Lake Kivu
You will have an opportunity, if you are up for it, to kayak on Lake Kivu while seeing local fishermen on their Makoros. All done, we head back to Kigali City and the airport if required. Possible to extend your tour by a few more days? We end the 5 days Rwanda Safari Tour by dropping you off.
Need Help!
WhatsApp or Call +256-752-643809
info@steadysafaris.com