8 days Rwanda safari tour
Days 1 & 2 2 nights at Nyungwe Top View Hill Hotel (full board), Nyungwe Forest National Park, Rwanda
8 Days Rwanda safari tour arrive at Kigali airport, you are met by your private guide assisting you with luggage and loading it in the 4WD before driving to Nyungwe Forest National Park – stopping in Butare. You will have your lunch en route.
Nyungwe Forest is a large tropical forest that hosts over 255 bird species with a count of 13 primates.
Trekking to see chimpanzees can be pretty strenuous but great fun. More relaxed guided walks are also possible; chat to us for details.
Days 3 & 4 2 nights at Cormoran Lodge (full board), Lake Kivu, Rwanda trip
After breakfast, leave Nyungwe and drive northwest to the town of Kibuye on the shores of Lake Kivu, where you spend two nights at the scenic Cormoran Lodge, with panoramic vistas of the lake. The lakeshores are covered by pine and eucalyptus trees, which lend alpine air to the region. If time allows, take a boat trip out to nearby Napoleon Island, which is host to a colony of fruit bats, or enjoy a sunset kayaking trip out onto the lake to watch the fisherman leaving for their night's work.
Day 5 1 night at Mountain Gorilla View Lodge, explore Volcanoes National Park.
From Kibuye, a scenic road gently weaves through hills to Volcanoes National Park, which protects the Rwandan side of the Virunga Mountains and the forest-clad volcanoes which were made famous by Dian Fossey's study of gorillas.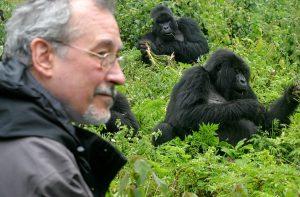 Due to the altitude, gradient and, at times, thick foliage, tracking to see the gorillas can be challenging; however, your time in Nyungwe Forest will have helped you to acclimatize. Spend a total of 3 nights at Gorilla Mountain View Lodge, ideally located fairly close to the park headquarters. The lodge has en-suite facilities with hot showers and fairly good general amenities. There are some lovely views from here across the Volcanoes National Park.
Day 6 1 night at Mountain Gorilla View Lodge (full board), Volcanoes National Park
After an early breakfast, spend your first morning tracking the endangered golden monkeys. These enigmatic primates are endemic to the region and live on the lower mountain slopes in bamboo thickets. They can be a bit harder to track down than the gorillas, but it is a good introduction to life in the Volcanoes National Park, and the trek will help you acclimatize to the altitude and terrain. In the afternoon, use your free time to explore the local villages or the nearby lakes of Burera or Ruhondo, or just to relax and watch birds around the lodge. Your guide and 4WD are, as always, at your disposal for excursions if you want them.
Day 7 1 night at Mountain Gorilla View Lodge (full board), Volcanoes National Park
Another early morning sees you meeting at the park's headquarters for a briefing on the etiquette of visiting mountain gorillas. An experienced park ranger will lead you to one of the habituated groups of gorillas, where you have one amazing hour to observe these fascinating primates. It is a truly unforgettable experience! Again, you can decide what to do during the afternoon, with your guide and 4WD available for your use.
Day 8 End of 8 Days Rwanda Safari tour
After so many early wake-up calls, you can enjoy a relaxing final morning! You will then be driven for about 2 hours through lovely hills, past villages, to Kigali. Here you may have time to visit the moving Genocide Museum or to have a quick look around town before continuing to another destination or getting a flight home.
See Prices & details for the precise dates/prices for this trip – and all the fine print.
Notes From 8 days Rwanda Safari tour
The prices shown are based on two people travelling together and sharing double or twin rooms.

Because this is based on a private vehicle and guide, the costs for this trip will reduce if more than two people are travelling. Conversely, they increase substantially for a solo traveller.

Ask us if you'd like to include an extra morning's gorilla trekking instead of golden monkey trekking; it's easily swapped when you book your trip.

In May 2017, the gorilla-trekking permits doubled in cost to USD 1,500. These increases have been included in the costs shown here.

Currently, if you spend two nights or more in Nyungwe Forest National Park between November and May, you qualify for one discounted gorilla permit per person during your stay in Volcanoes National Park.

Rwandair currently flies direct from London Gatwick to Kigali, though these flights do not operate daily. Chat to us for alternative routes.