3 days mountain gorilla tracking tour
Day 1: Depart Kampala travelling West
6:00 am Start the 3 days mountain gorilla tour when your guide picks you up in Kampala city.
9:00 am stop for 20 minutes at the equator for photos, toilet, coffee, tea, and soda.
1:00 pm break for lunch at the Igongo cultural centre.
2:00 pm resume the drive to Buhoma where we arrive at 6 pm or perhaps earlier variables on the road contribute.
7:30 pm, you will have an early dinner and an early rest, best on what the lodge schedule shall be. Travellers will suggest when to eat their dinner.
Overnight at the Lodge Mahogany Springs Lodge
Lunch, Dinner, Drinking Water
Day 2: mountain gorilla tracking day
Mountain Gorilla tour day is the highlight of any traveller in Bwindi forest for mountain gorilla tracking. This morning the mood of trackers is high as everyone is very excited, anticipating what is to come. Playing out in their minds what they might visualize in expectation of the events to come.
At 7:30 am, you will drive from the lodge to the briefing area, where you are talked through a brief on gorilla tracking. Then trackers will be in groups of 8 people for a particular gorilla family to trek. 8:00 am, your excursion will start with an immediate entry into the forest or drive for a few kilometres to the starting point.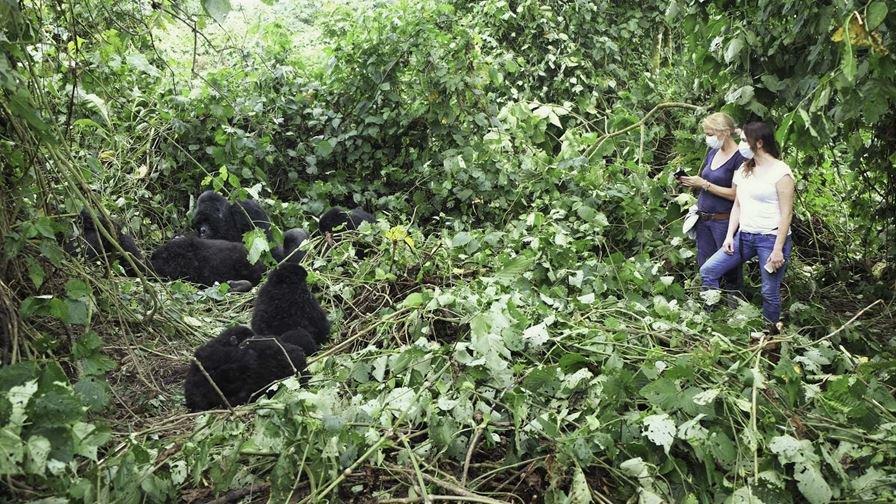 You will have your packed lunch and plenty of drinking water for the trekking.
Gorilla trekking trail
Tracking can be tough, but it is doing every step you take in front of the other, you get closer to the mountain gorillas. Although the trekking trail can be a challenge, you shall get exhausted but don't give in to tiredness. The feel of finding the mountain gorilla is a thrill that pumps new adrenaline.
In Bwindi forest national park, the mountain gorilla tracking tour does not limit your experience to gorilla trekking. There is different wildlife that lives in this park, your head guide will point out the primates, birds, mammals and signs of life as encountered. The flora is also wide; the guide will show you various gorilla food plants.
Time with the mountain gorillas
When you find the mountain gorillas either feeding or resting on the forest floor, you will be required to spend just 1 hour with them. Hereafter you shall be asked to leave and return back to the starting point where you meet your vehicle. You return to your lodge for rest.
A community walk will follow or just rest at the lodge.
Dinner and overnight at Mahogany Springs Lodge.
Day 3: Return to Kampala, ending the 3 days mountain gorilla tracking tour
8:00 am, we start our long drive back to Kampala, or you could opt for a domestic flight to Entebbe airport if you are flying back home.
Arrival will be 5:00 pm; we end by dropping you at the hotel, airport, or address in Kampala.
Included in the price for this trip
Guides

Vehicle

Fuel

English speaking driver

Park entrance

Accommodation

Meals

Bottled water

Gorilla Permits
Not included in the price for this trip
Drinks

Tips

Porters

Laundry services

Travel Insurance

Visa (Uganda/Rwanda)

Any other personal interests

The first and last night in Uganda
Transport
4WD Toyota Land Cruiser
The cars are well maintained, and our drivers are experienced and English-speaking Ugandans. If necessary, we can also hire other vehicles.