12 Days Uganda and Kenya Safari
During the 12 Days Uganda and Kenya safari, you will also learn about the inspirational work of the team here and their dedication to protecting these endangered animals they are astounding. Still, at-risk ecosystem, seeing first-hand how your travel directly benefits the region and learning about how people live on the edge of the forest near the gorillas.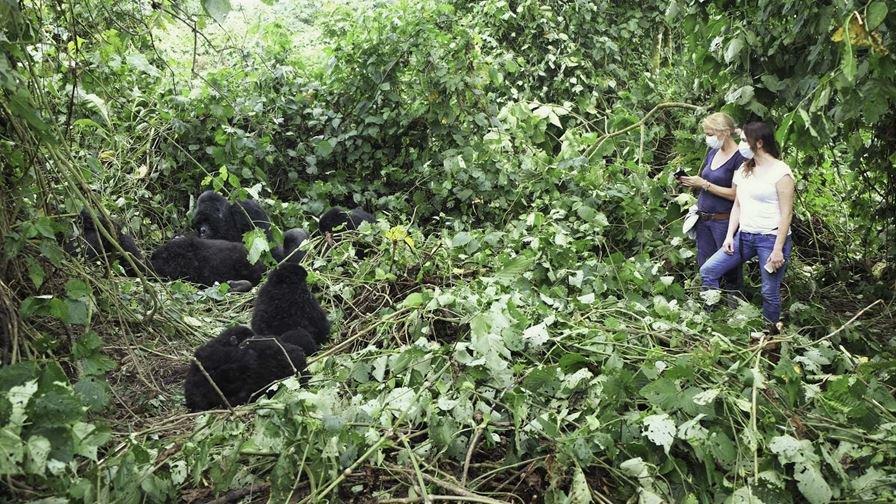 Fly to Kenya's capital, Nairobi, for a night and visit the orphan elephants and rhinos at The David Sheldrick Wildlife Trust, then venture north to the green hills of Solio Reserve. This private sanctuary is a haven for white and black rhinos. Staying at the only Lodge on the 45,000-acre ranch, spend your days in the shadow of Mount Kenya spotting big cats and pachyderms on safari, exploring horse rides, treks, and trout fishing trips.
Samburu
From here, it's a short hop into Samburu and the opulent Sasaab Lodge. Try and spot the 'Samburu Special Five' – the Grevy's zebra, reticulated giraffe, Somali ostrich, gerenuk, and Beisa oryx – on walking safaris and camel rides, get a glimpse into Samburu life, culture and tradition, or spend a night fly camping in the bush under the stars. Of course, you can also relax at the luxurious spa, reflecting on your adventure.
DAYS 1-2: ENTEBBE
Flights & Transfers Meet and greet at Entebbe airport Private transfer to your hotel in Entebbe.
THE BOMA GUESTHOUSE
Take some time to rest and relax at the small and friendly Boma in Entebbe. Just minutes One night in Entebbe
The pleasant town of Entebbe has a beautiful location on the northern peninsula of Lake Victoria. This tropical lakeside city is a more relaxed stopover destination than Kampala. As Uganda's main international airport is located here, it's an excellent base for exploring the rest of the country. Flights & Transfers Private transfer to Entebbe Airport Light aircraft flight to Bwindi Transfer to your lodge
DAYS 2-5: BWINDI IMPENETRABLE FOREST
Spend three nights in Bwindi Forest at the Clouds Mountain Gorilla Lodge, or Sanctuary retreats Lodge. Bwindi forest is 'the place in Uganda to see the famous mountain gorillas. But it is also a secretive home for other primate species, including black-and-white colobus, L'Hoest's, red-tailed, blue and vervet monkeys.
In addition, there are 79 mammal species, including duiker, elephant, bushbuck, bush pig, giant forest hog and several small cat species that will keep you company as you explore the remote area.
This is a very diverse region of Uganda. With a guide, you will have time to explore flora and fauna, various species of birds and butterflies and other larger mammals, and perhaps visit local communities on the edge of the park.
Gorilla trekking in Bwindi Forest
Two full days of hiking and tracking to observe Mountain Gorillas. There are ten habituated gorilla families in Uganda. All are located in Bwindi Impenetrable Forest National Park in the country's southwest. Each group receives a maximum of 8 visitors per day.
About seven of the ten families reside in Northern Bwindi and three in southern Bwindi; the ones you will be tracking will depend on the location of your lodgings. The gorillas cover large distances overnight, and they are never constantly in one area.
The guides will use their knowledge of the gorillas' habits and information from the previous day to locate the group's whereabouts. For this reason, one group cannot be said to be easier to track than another.
Time with Gorillas
The time to track the gorillas varies enormously, from as little as half an hour to as much as 9 hours before returning to camp. The terrain can be challenging, with steep slopes and dense vegetation. In addition, the altitude means participants do need to be physically fit to enjoy the hike.
Once the gorillas are located, your group will be allowed one hour with them. This is to avoid causing the animals any undue stress or getting them overly used to human interactions. After this, you will return to the park headquarters and your camp.
Suppose, for some reason. You cannot complete your excursion to the gorillas in that case. You will be asked to remain where you are with a porter until the group returns. Flights & TransfersFlight from Bwindi to Nairobi via Entebbe
DAYS 5-6: NAIROBI
Flights & Transfers Private transfer to your hotel in Nairobi One Forty-Eight Nairobi / Hemingways Nairobi David Sheldrick's Elephant Orphanage.
Born from one family's passion for Kenya and its wilderness, the David Sheldrick Wildlife Trust is today the most successful orphan elephant rescue and rehabilitation program globally and one of the pioneering conservation organizations for wildlife and habitat protection in East Africa.
Located in a secluded area of the Nairobi National Park, the orphanage is open for visitors between 11 am and 12 pm when the orphans arrive for their midday mud bath and feeding.
One night in Nairobi, The capital city of Kenya, is a busy one and can be slightly overwhelming to behold. However, while the centre is hectic, suburbs such as Karen, named after Karen Blixen, are beautiful places. In addition, there are attractions such as The Daphine Sheldrick Rhino and Elephant Orphanage and the Giraffe Centre, and the Nairobi National Park just outside the city.
Flights & TransfersPrivate transfer to Nairobi Wilson airport Flight from Wilson airport to NanyukiTransfer from Nanyuki airport to Solio Reserve
DAYS 6-9: SOLIO RESERVE
SOLIO LODGE
The only property nestled within a 19,000-acre private wildlife sanctuary surrounded by. Three nights in Solio Private ReserveSet in the lush foothills of the Aberdares and close to Mount Kenya, this area is the premier place to see the Black Rhino in Kenya and other types of wildlife.
Your travel designer will be able to inform you about the activities on offer in this area of Kenya. Flights & TransfersPrivate charter flight to Sasaab
DAYS 9-12: SAMBURU 12 Days Uganda and Kenya Safari
SASAAB LODGE
Suppose you want an exclusive and luxurious escape combined with a Samburu bush experience, Sasaab. Three nights in SamburuEnjoy the stunning wildlife and beautiful cultural encounters with the local Samburu tribes in the Samburu region.
Take bush walks between your daily safari game drives (some at night). Visit the local Samburu villages, camel-back riding, evenings of sundowners, gourmet food and campfire stories, and all in your Lodge's serene and sumptuous luxury. Flights & TransfersFlight to Wilson AirportPrivate transfer to Nairobi International
Best months to go for 12 Days Uganda and Kenya safari
JAN FEB MAR JUN JUL AUG SEPT OCT-DEC
Good months to go.
APR MAY NOV
What is Included in 12 Days Uganda and Kenya safari
1. All flights except your arrival/return international flights
2. All accommodation, including breakfast (some hotels may include more meals & activities)
3. Two gorilla trekking permits
4. All private ground transfers
5. All guided tours specified in the itinerary description
6. Full support from your Travel Concierge before, during and after your trip