Murchison Falls national park
Murchison Falls national park is Uganda's largest national park in the northwest of the country, and it was gazetted in 1952.
Similarly, this park is also referred to as the Kabalega Falls, a waterfall found on the course of the river Nile.
It also breaks the Victoria Nile, which flows across Uganda's northern region from the vast Lake Victoria. Therefore continuing to the northern tip of Lake Albert within the western arm of the Great.
Meanwhile, at Murchison Falls, the Nile squeezes through an 8 m wide gorge and plunges with a thunderous roar into the "Devil's Cauldron".
Likewise, the northern section of the park has savanna and Borassus palms, acacia trees and riverine woodland. In the same vein, the south has woodland and forest patches.
Subsequently, from here, it then continues westward into Lake Albert.
The Murchison falls
Above all, it is named after Sir Rodrick Murchison, the president of the royal geographic society. Moreover, the game reserve is made up of Bugungu game reserve, Karuma game reserve, and Murchison falls national park.
Further, the Murchison Falls is where the River Nile squeezes through a 7-meter gap, with episodes of powerful waves that fall 40 meters below. A boat safari from Paraa (meaning the place of hippos in Luo) takes 2 hours upriver and brings you to see the waterfalls from the bottom.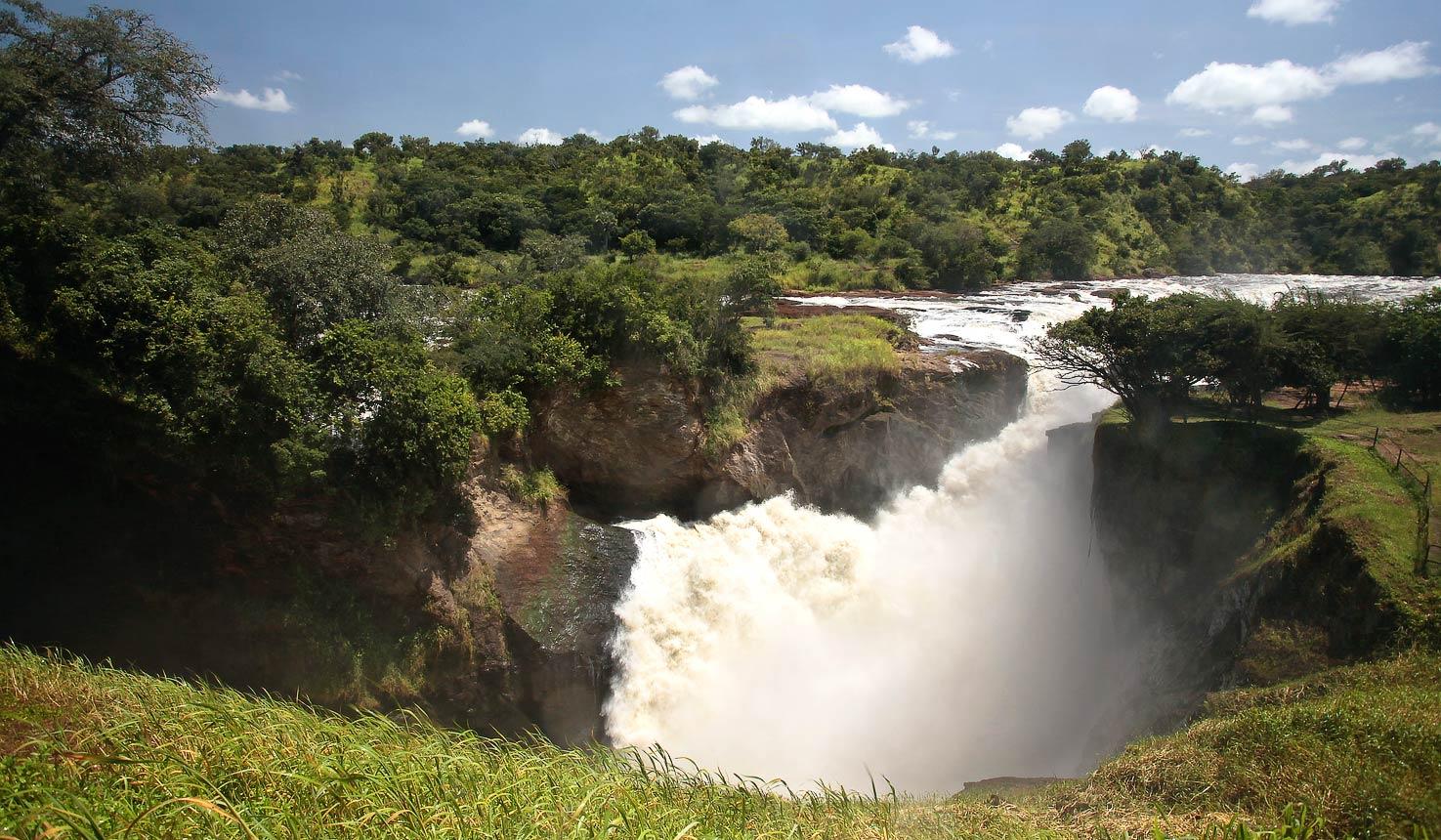 This national park is also Uganda's largest; travellers will find a variety of wildlife animals, such as elephants. Other wildlife exists, such as lions, leopards, African buffalo, antelopes, giraffes, hippos, and hyenas. Also, jackals, birds, forests and many more, including reptiles such as snakes as well as crocodiles.
There are several lodges within and around the park where travellers can stay during a safari visit. Activities such as game viewing, boat ride, walking safari, chimpanzee watching, and bird watching will give a safari traveller a memorable experience. It is also very possible to combine with a visit to the Ziwa rhino sanctuary to complete the traditional big five African safaris.
Getting to Murchison falls national reserve and away.
Most people who go to Murchison Falls from Kampala use one of the two routes between Masindi and Paraa. The headquarters of Murchison Falls national park is found in the Mubaku area. They diverge about 1km past Masindi town centre, in front of the Shell fuel station.
Both routes have their pros and cons. Whether you are driving yourself or reliant on public transport and lifts. The best way to get to this park is through a tour operator like Steady Safaris Limited. The more direct route is 85km long. When you take the right turn opposite the Shell fuel station with a signpost Paraa via Kichumbanyobo. The longer route is 135 km, and it takes you past the Shell fuel station and Masindi hotel, then head to the park via Bulisa.
Where to stay in Murchison Falls game park?
The recent development of lodges in and around Murchison Falls has seen accommodation increase. Here is a list of facilities where you can stay when you visit the park. Budongo eco-lodge, Sambya river lodge. Also, Murchison River Lodge, Red chilli camp, Nile safari lodge, Bakers Lodge, and Saravo Paraa safari lodge. There are lodges such as Pakuba safari lodge, Heritage Lodge, Fort Murchison Lodge, and Bwana Tembo.
Things to do in Murchison Falls national park?
The main activity is a wildlife sunrise and night game drive and a boat cruise on the Victoria Nile to the bottom of the falls. However, sport fishing can be done on the river, and bird watching throughout the park. Chimpanzee tracking is also available in the Budongo forest; walking safaris can also be conducted by the rangers. The recent addition is balloon safaris, although it has not yet been picked up.
How much does a Murchison Safari Cost?
For instance, full package prices vary considerably from USD 450 per person for a budget 3-day tour (with a group of 6 people in a vehicle) staying in a budget camp up to USD 1500 per person for luxury accommodation for a similar Murchison Falls safari. Below we will discuss each of these factors in detail.
Transport will cost from $80-$100 for a van vehicle per day, including a driver or $250-$300 for a LandCruiser vehicle, including the driver. But without fuel and park entry fees.
Accommodation
This will vary significantly depending on the type of accommodation selected. 
For lodges, nightly rates will cost several hundred dollars, typically with meals included.
Accommodation will look like this from $30 -$120 camping/budget to $200 – $600 midrange per night to $1200 luxury per night
Park entry, Boat ride, Hiking, Game drive, Rhino tracking
All the above activities contribute to the cost of a Murchison falls safari therefore the best way is to travel with a tour company that arranges and offers packaged tours to Murchison Falls national park.